Hey everyone, i moved here from boston, mass and i notice you guys dont have that many races/alleycats planned so i thought i would start something up and hopefully it catches.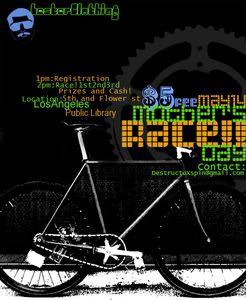 so far it starts at the LA public library. there will be around 5 checkpoints and you have to get it signed etc etc... its going to be over 30-40 mile ride.

I have this flyer going so far. but im trying to get some sponsers and get prizes other than cash. my roomate here has a clothing company that might be sponsering it and etc.
so defintily come out and check it out
there's most likley going to be a party afterwards. im waiting on word for that.
if you have any questions you can email me (look at the flyer)

and if you have any input on the race let me know! im going to need help with it.